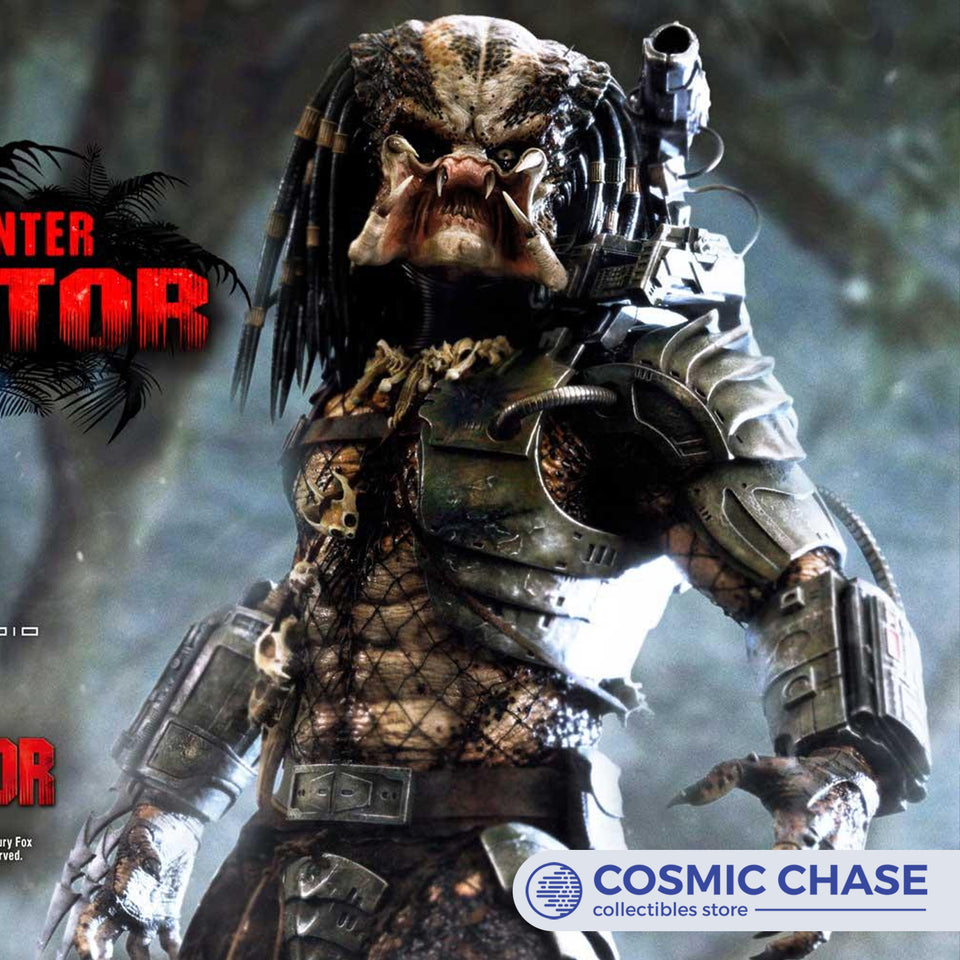 Prime 1 Museum Masterline Predator (Film) Jungle Hunter Predator 1/3 Scale Statue
---
---
---
The product price is converted from SGD currency

. Prices are shown in your preferred currency based on the prevailing currency exchange rate.
Deposit made are non-refundable.
For overseas customers, custom tax & VAT charges are based on your country's import regulations.
For overseas customers, shipping cost is not included in the product price.
PRE-ORDER DETAILS:
Retail price: $3,979 (SGD)
3 Payment Options

Full payment option:
Deposit option:
Payment plan option:

Item ships out from Singapore 

Non-refundable Deposit:  1,000 
* Price stated based on converted from our price in SGD currency.
AVAILABLE SHIPPING OPTIONS:
| | |
| --- | --- |
| COUNTRY / REGION | EST SHIPPING COST # |
| Singapore | 180 SGD (3 Boxes) |
| US (Sea-ship) | TBC |
| US | 350 USD |
| Canada | 400 USD  |
| France  | 400 USD  |
| Australia | TBC |
| UK | 400 USD  |
| South Korea, Hong Kong, Taiwan, Philippines | TBC |
| Others | TBC |
* We provide sea-shipping option to the US
# Shipping cost is determined by the dimension and weight of the product package/box. 
~ Delivery fee will be charged to deliver to drop-and-ship station.
MORE INFORMATION:
PRODUCT DETAILS:
Product Code: MMPR-01DXS
Product Carton Boxes Approx.: 3
Statue Size approx. 35 inches tall [H:90cm W:71cm D:68cm]
Predator: Jungle themed Base with watery effects
LED-Illuminated on Bio-Mask, Plasma Cannon and Wrist Control Panel
Openable Wrist Control Panel with hinged cover
Placeable Predator's Bio Mask on the base
Four (4) Swappable heads (Bio Mask, Unmasked Classic Portrait, Unmasked Roaring Portrait and Gort Bio Mask)
Three (3) Display stand for the swappable heads
Two (2) Wristblades (Retracted and Extended)
Two (2)Plasma Cannon (Activated and Deactivated position)
One (1) Pair of Open Hands
One (1) Pair of Clenched Fist
Two (2) Title Plaques
One (1) Pair of Bonus Closed Hands
Moveable Bonus Parts (Mac Skull and Jim Hopper Dog Tag)
Notice:

Prototype samples shown.
Product details could be subjected to change without further notice.
Please note the final product specifications may differ because each product is Handmade.
Since the product is still in the development stage, the Size (up to 10%) & Weight (up to 10kg) may be changed during the production stage.